Electric Scooters Ireland - Buying Guide 2022
Electric scooters are a great solution to get around urban areas, towns and countryside roads. However, buying an e- scooter can be difficult for first-time buyers and not well versed in the electric scooters market. The number of models available for sale is growing every year, and more choice does not mean easier choice. If you're looking for advice before purchasing an electric scooter, you've come to the right place.
This guide will show you what you need to know about escooters and how they work, what to consider when choosing. I'll also walk through some of the most popular electric scooters models on the market and help you find your perfect match.
What is an Electric Scooter, and Why Would You Need One?
A modern electric scooter is an electric vehicle powered by a rechargeable battery. If you live in a city and need to get around quickly, there are many benefits of choosing an e- scooter over other modes of transportation.
Firstly, most scooters can be folded, easy to take to the office, class or even public transportation, and people won't struggle with parking pot. Secondly, scooters are environmentally friendly. They do not emit any carbon dioxide or greenhouse gasses into the air, so they are not harmful to the environment. The third benefit is that they travel at speeds up to 25 km per hour, which makes them much faster than walking and effortless than cycling. The fourth benefit is that they can be charged at home with a standard outlet, so you don't have to worry about not having electricity access. When you combine these benefits with the low price tag, it's easy to see why scooters are an ideal option for people on a budget.
The Factors to Consider When Buying an Electric Scooter
In today's world, people are always on the go. They are always looking for ways to make their lives easier and more efficient. This is why e-scooters have become so popular in recent years. These scooters are a great way to reduce commute time and save money on transportation. However, not not any electric scooters are suitable. There are several key factors that should be considered before purchasing an electric scooter.
The first thing you want to think about when buying a modern electric scooter Ireland is what you will be using it for the most? Will you be using it as your primary mode of transportation or just for leisure? If you are using your e-scooter primarily as your primary mode of transportation, you will want to look for an e-scooter with relatively high speeds. On the other hand, if you will mainly be using your vehicle for leisure, it will be worthwhile to consider the battery life and how long it can last before recharging. If you have a lot of short trips planned during your day, you may find that a smaller battery for electric scooter is more suitable for your needs. 
Maximum Safety is an essential factor when considering the type of scooter for you. With that in mind, you may want to opt for something with more safety features and more protection against falls and collisions. Some of the elements you might want to look for include a more robust frame and more foam padding on the body and handlebars. The brakes are also essential to consider, as they help prevent the scooter from rolling away when you let go of it. The other factors include the cost, the size of the scooter, and whether or not it is foldable.
Adjust the model to the age, height and weight of the user
There is almost no age limit to use an electric scooter. You can easily find e-scooters on the market for both children and adults. However, the parameters suitable for different age groups may vary.
The lightweight, easy-to-carry e-scooter is best for kids and teens. It is worth choosing a variant weighing up to 10 kg. Most children's colourful scooters can carry up to 90kg. Adult models typically weigh around 13-15kg, most have a maximum load capacity of 100kg, and some may reach 150kg.
Pay attention to the handlebars, which should also be adapted to the user's height. It is best to choose a handlebar height that is adjustable.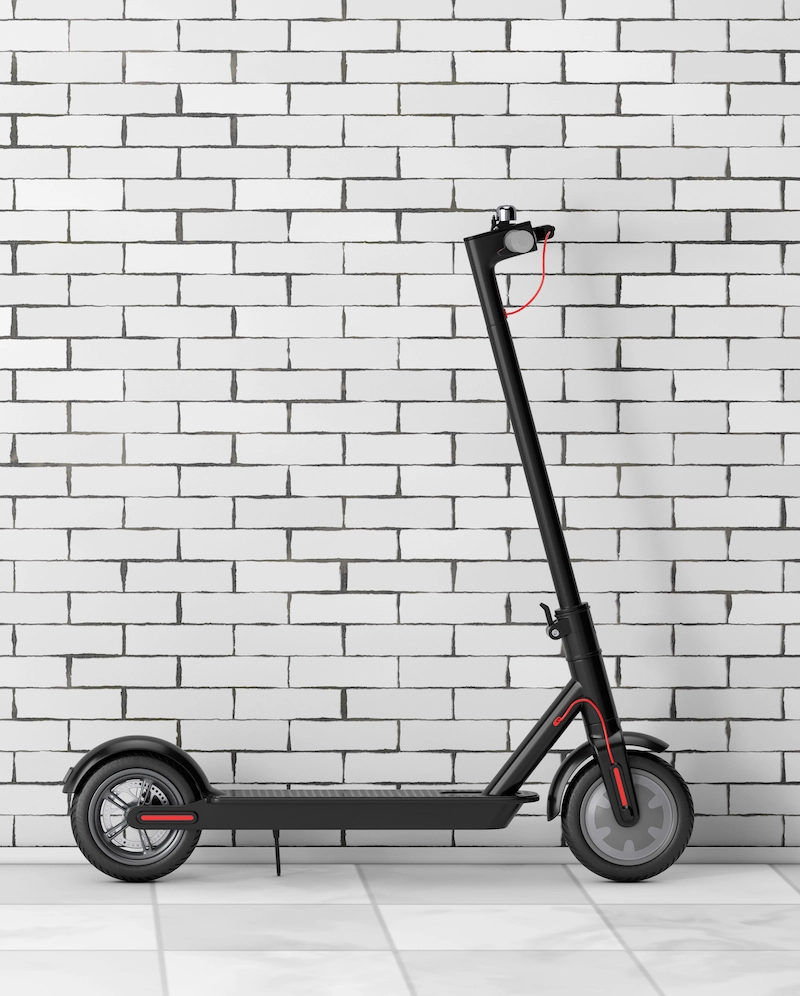 Choose good quality equipment
The electric scooters market is booming, so stores offer a wide variety of products. Some meet customers' high expectations and offer excellent parameters, while others are known by low prices, but often the quality is not as good as expected. As e-scooters can be regarded as a kind of micro-transportation, and some can even reach a maximum speed of several dozen kilometres per hour, both quality and performance are worthy of attention. This will ensure the safety of users and others.
It's better to buy a reputable model at a verified store, rather than a comparable product on the market. You'll get the guarantee and confidence that in the event of a breakdown, you can count on service for help. What's more, such a one-time investment pays off—no need to worry about faults, expensive repairs, or even replacing a new the equipment.
When buying an e-scooter, the weight factor is an important consideration. A heavier scooter will be more difficult to transport and may require a stronger motor to reach high speeds. However, a heavier scooter will also be more stable and easier to control. Ultimately, the best scooter for you is the one that meets your weight, speed, and stability needs. The weight of the e-scooter is mainly influenced by the materials from which it is made. They are built of various materials to ensure durability. Commonly used materials are aluminium alloy, carbon fibre, and other materials. The overall weight of the e-scooter is more suitable at 10-13kg. If it is too heavy, you need to consider your arm strength.
Electric scooters available on the market are different in terms of performance. Maximum speed is one of them. How fast do you need to go? 20 km/h? 30 km/h? More? Consider what you'll be using your scooter for. If you're commuting to work, you'll want to make sure you can keep up with traffic. But you might not need as much speed if you're just using it for leisurely rides around the neighbourhood. Once you know how fast you need to go, you can start narrowing down your options. Due to structural problems, the general vehicle maximum speed will only be limited to below 25km/h. If the vehicle's maximum speed is too fast, it will be unsafe because people are much heavier than the e-scooter. Even though the brake system is good, the inertia is large, and the speed is too fast, It may still fly forward. It is worth remembering this factor, especially when buying one for children.
When you're looking to buy an electric scooter, one of the key things to look at is the distance range. Different scooters will have different distance ranges, depending on the size and power of the battery. Obviously, you'll want to choose a scooter with a range that's suitable for your needs. For example, if you only need to use it for short trips around town, then you don't need one with a very long range. On the other hand, if you're looking to use it for longer commutes, you'll need a scooter with a correspondingly longer range.
In general, most electric scooters can cover 30 kilometres or even 40 kilometres. For short rides, those that cover 10 to 20 kilometres will work. However, if you plan a longer trip or do not want to charge it every time you use the device, it is worth choosing a more advanced model.
Most scooters have a combination of mechanical disc brakes and electronic braking systems. On some models, the non-drive wheel has a mechanical or hydraulic disc brake installed. The electronic brake works through the engine, affecting both the front and rear wheels. It works by creating resistance while the motor rotates.
An electronic brake causes the electric scooter to come to a slow and controlled halt.
More expensive scooters will have a regenerative braking system that transfers some of the braking energy back to the battery.
When choosing an E-scooter, ensure it has a mechanical disc brake on at least one of the wheels. Electronic braking only helps slow down the scooter but is ineffective in an emergency. However, twin disc brakes are crucial. And when it comes to regenerative braking, the amount of energy recovered will be so small that it won't have much impact on the range. Therefore, it is not worth using this parameter when making a final decision.
When you're ready to buy an e-scooter, one of the first things you need to think about is what kind of tyres you want. There are three main types of tyres: air filled rubber tyres, pneumatic, solid, and foam-filled. Each has its own pros and cons, so it's important to choose the right one for your needs.
Pneumatic tyres are the most popular type of tyres for electric scooters. They're made of air-filled rubber and provide a smooth, comfortable ride. However, they can puncture easily and require more maintenance than other types of tyres. Air–filled rubber tyres are also much easier to maintain than solid tyres. You can simply pump them up when they start to get low, and you don't have to worry about replacing them as often. If you want to save money on your electric scooter, air–filled rubber tyres are a great option. They offer a smooth ride and are easy to maintain, so you can focus on enjoying the ride.
Solid tyres are made of solid rubber and are very durable. They're a good choice for riders who are concerned about punctures, but they don't provide as smooth of a ride as pneumatic tyres.
Foam-filled tyres are made of rubber that's been filled with foam. They're lightweight and provide a smooth ride, but they can be punctured easily and don't last as long as other types of tyres.
E-scooter charging time & battery
One of the most important factors to consider when buying a modern electric scooter is the charging time. A fast charging time means you can get back on the road quickly, while a slow charging time can be a significant inconvenience. Most electric scooters will charge in about 4–6 hours, but some models can charge much faster. Be sure to check the charging time before making your purchase.
When it comes to escooters, one of the most important things to consider is the battery. You want to ensure that the battery for the bikes electric scooters are powerful enough to get you where you need to go, but not so powerful that it's overkill for your needs. When buying an e-scooter, be sure to check the battery specs and compare them to your needs.
Depending on the model and its price, charging times vary from 2 to 6 hours. Remember, the more powerful battery for electric scooter, the more extensive the e-Scooter range. The higher the voltage, the stronger the power, especially when climbing; the more significant the capacity, the stronger the battery life.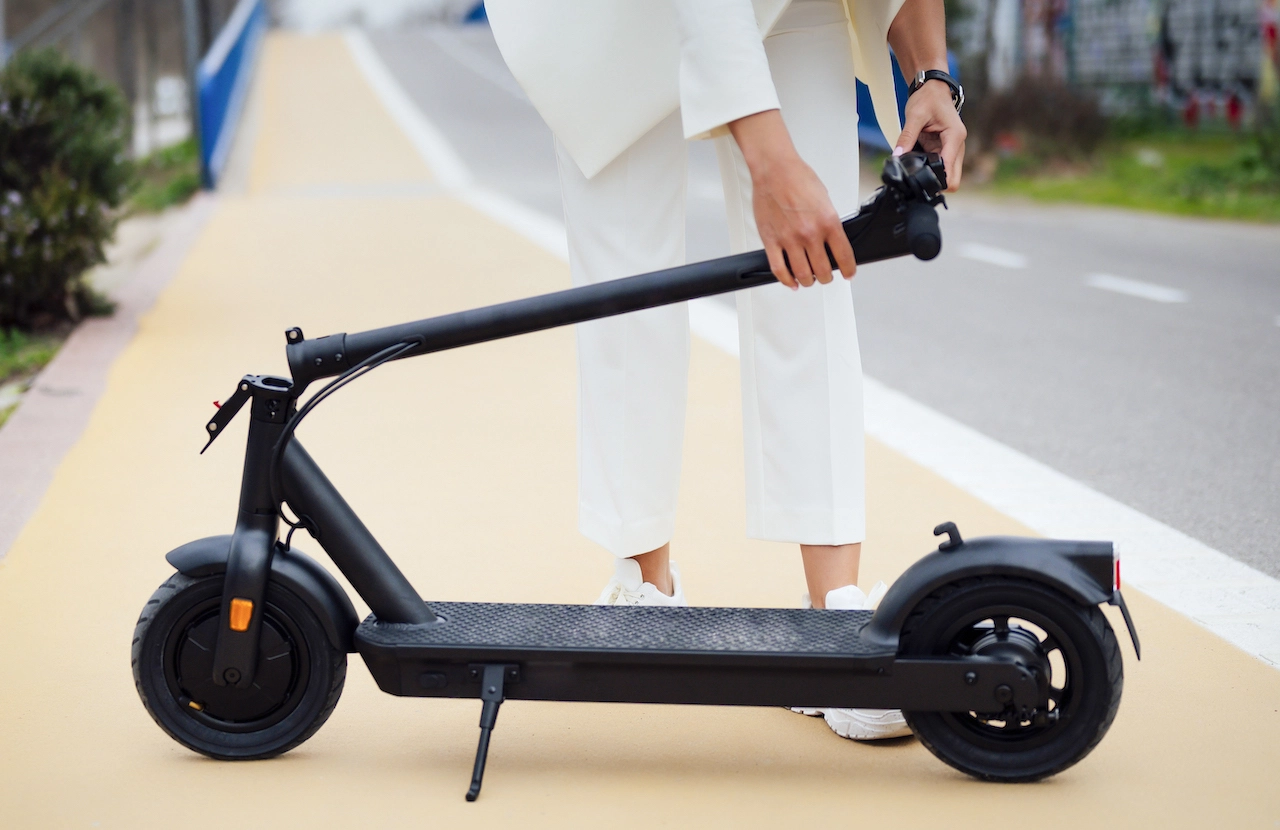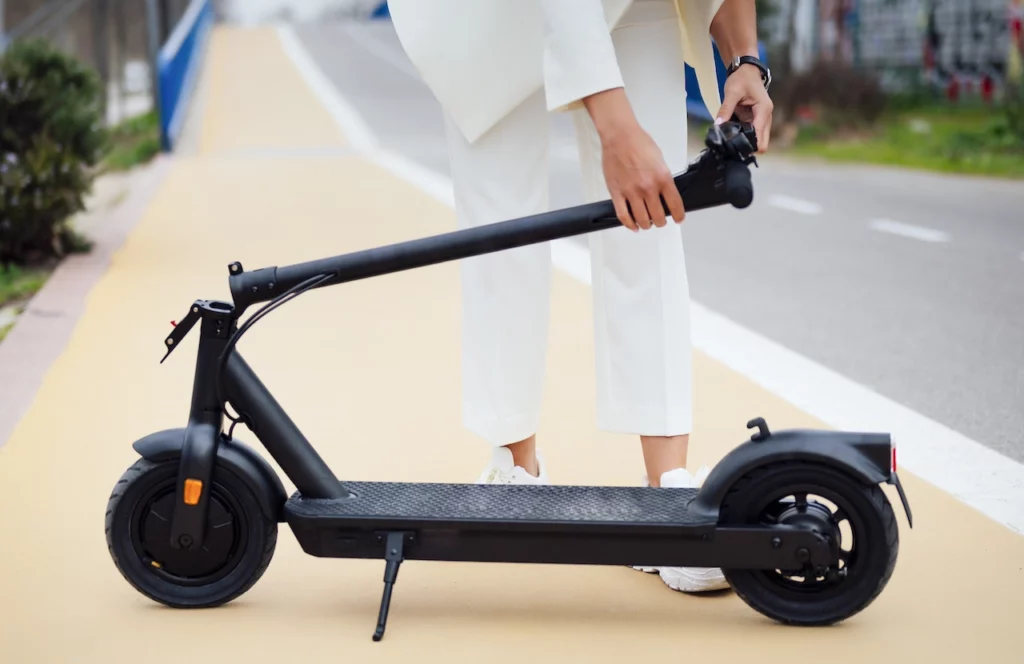 If you're looking for bikes electric scooters that are easy to fold up and carry with you, there are a few things you'll want to keep in mind. First, consider how often you'll be folding and unfolding your scooter. If you are doing it regularly, look for a scooter with a quick and easy folding mechanism. Second, think about how much weight you're willing to carry. Many foldable scooters are pretty lightweight, but some are heavier than others. Third, consider what kind of terrain you'll be riding on. A less expensive scooter may suffice if you stick to smooth surfaces. But if you depend on rough terrain, you'll want a sturdier, more expensive model. Use this buying guide to help you choose the right foldable electric scooter for your needs.
Pay attention to them if you intend to use your scooter for riding to work or school. After folding, it takes up very little space.
If
you
're
in
the
market
for
an
electric
sc
ooter
,
one
of
the
first
things
you
'll
need
to
consider
is
size
.
E-
sc
ooters
come
in
a
range
of
sizes
,
from
small
and
lightweight
models
that
are
easy
to
carry
and
store
,
to
larger
models
that
can
accommodate
adults
.
The
size
of
the
sc
ooter
you
choose
will
depend
on
a
number
of
factors
,
including
how
you
intend
to
use
it
and
where
you
'll
be
riding
.
If
you
're
looking
for
a
sc
ooter
to
use
primarily
for
commuting
,
a
larger
model
may
be
more
comfortable
and
offer
more
range
.
But
a smaller model may be a better option if you're looking for a scooter to use primarily for recreation or short trips around town
.
Whatever
size
electrics
sc
ooter
you
choose
,
be
sure
to
read
the
manufacturer
's
size
and
weight
limits
to
make
sure
it
's
suited
for
your
needs
.
Most scooters have a weight limit of around 150kg, so if you're heavier than that, you'll want to look for a scooter that can accommodate your weight. You'll also want to make sure the scooter is comfortable for you to ride, so pay attention to the seat height and handlebar height to make sure they'll be a good fit for you.
Electric scooters are becoming increasingly popular, but SAFETY is what you should keep in mind before you buy one. First and foremost, scooter safety is critical! Make sure you read the reviews and do your research before purchasing a scooter. There have been a few injuries reported from people using them, so it's essential to be aware of the risks. Secondly, read the instruction manual thoroughly before operating the scooter. And finally, always wear a helmet when riding!
Large wheels guarantee driving stability and protection in an immobilizer and lights. All these elements are essential for the safety and comfort of driving! It is also necessary getting a protective helmet.
When it comes to electric scooters, one of the most important things to keep in mind is storage. Where will you keep your scooter when you're not using it? If you live in an apartment or condo, you may not have a lot of storage space. In that case, you'll want to look for electric scooters that can fold up so you can easily store them in a closet or under a bed. If you have a garage, you'll have more options when it comes to storage, but you'll still want to make sure your scooter can be easily stored out of the way. When considering different storage options for your e-scooter, remember how often you'll be using it. If you only plan on using it occasionally, you may be able to get away with storing it in a shed or on a balcony. But if you use your scooter regularly, you'll want to ensure it's always easily accessible. The last thing you want is to lug your scooter up and down stairs every time you want to use it.
When you're looking for an electric scooters, price is going to be one of the main factors you consider. However, it's important to keep in mind that the cheapest scooter might not be the best value. To figure out how much you should be spending, you need to think about what you'll be using the scooter for and how often you'll be using it. If you're only going to be using it for short trips around town, you might be able to get away with a less expensive model. However, if you're planning on using your scooter for longer commutes or want a model that can take on tougher terrain, you'll need to be willing to spend more. Use this buying guide to help you figure out how to get the best value for your money.
What Electric Scooters Brands Are the Best?
The best brands of electric scooters are the ones that offer the best value for money. The more expensive the scooter, the better its quality and features. It is important to remember that you get what you pay for. There are many different types of scooters on the market, but not all are as good as they seem at first glance. It is important to do your research before buying one to ensure it will be a good fit for your needs and expectations.
All the top brands of electric scooters in Ireland can be a tough decision. There are many brands and models to choose from. However, some scooters stand out from the rest. The following brands have been chosen as the best electric scooter in Ireland because they have a huge range of electric scooters: Segway, Xiaomi, Pure, Ninebot and Turboant. Remember, brand matters!
How To Find The Best Electric Scooters in Ireland For Your Lifestyle & Budget?
Many electric scooters are on the market today, but not all of them are produced equal. Some have more solid construction and better features than others, and some are more affordable. This is the standard practice to find the right one to do your research. Read reviews and analysis what features you need in an e-scooter and which ones will be worth spending a little more money on. Search on Google, compare product reviews and study local forums and online shops. You can also ask friends and colleagues if they already own one.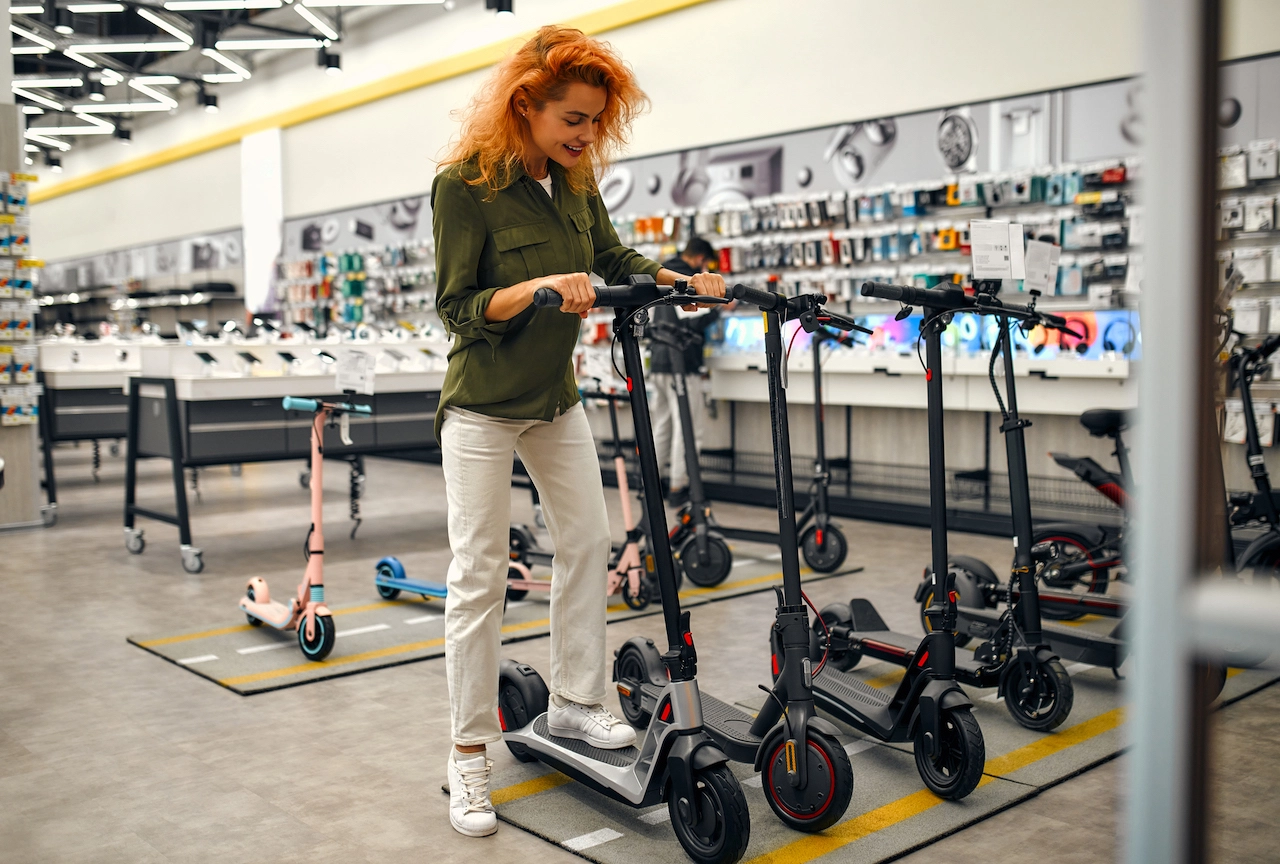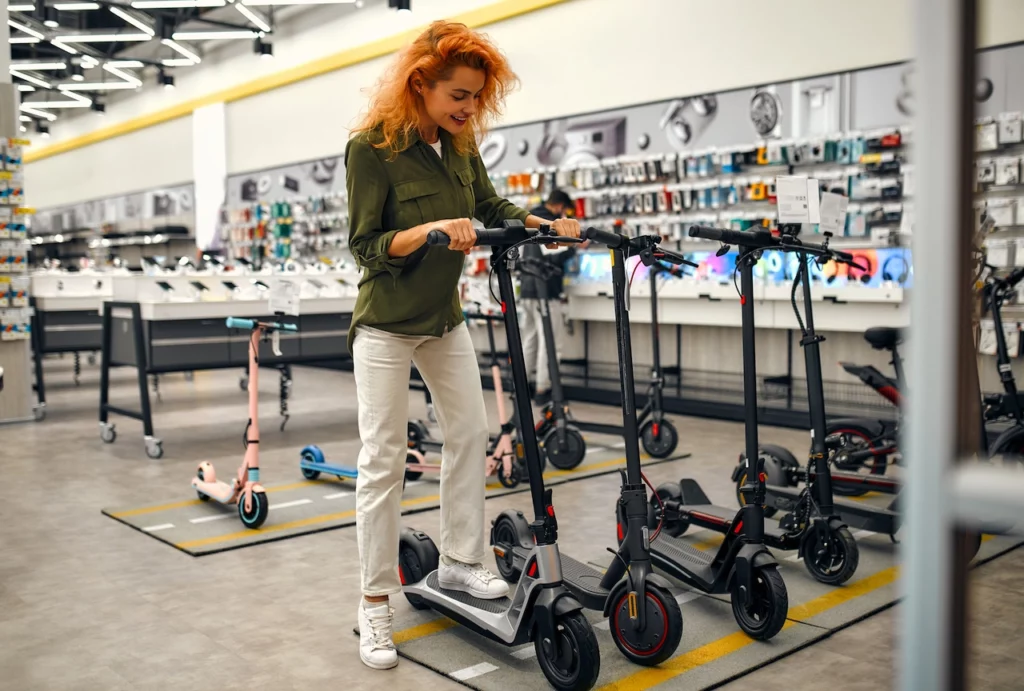 How to Buy a New Electric Scooters in Ireland And Where?
Ireland is one of the most beautiful countries in the world. It is also a country with great beaches, rich culture and breathtaking landscapes. However, for some people who live in Ireland, it can be quite difficult to get around because of the high prices of public transportation. With that being said, buying a perfect electric scooter could be a great option for those who want to save money on transportation costs and travel quickly to work or explore Ireland's beauty more easily. The easiest way to buy a modern electric scooter in Ireland is in the online store. Here is a few of the most popular electric scooters sellers: Smyths, Currys, Halfords, DID, and techspec.ie, greenelectricscooters.ie,  scootersireland.ie, buyitdirect.ie, liffy.ie, electrocity.ie, goosed.ie, locoscooters.ie and other electrical and electronic equipment shops.
Conclusion: How To Buy The Perfect Electric Scooter For You And Your Lifestyle
The electric scooters Ireland are a great way to get around the city for work or leisure.
Electric scooters are a good choice for everyone who lives in urban areas and wants to avoid traffic while getting to and from work. They are also a good option for those who spend much time on the go and need an easy way to travel between various locations.
Electric scooters can be an excellent choice for those looking for an alternative form of transportation but don't want to deal with gas prices or parking fees.